Tuesday, November 7, 2017 - 7:30pm
Body:
Booksmith is pleased to welcome acclaimed Guardian cartoonist Tom Gauld as he presents a best-of collection of literary humour cartoons — Baking with Kafka. With Tom will be Mallory Ortberg—join us!
In his inimitable style, British cartoonist Tom Gauld has opened comics to a crossover audience and challenged perceptions of what the medium can be. Noted as a "book-lover's cartoonist," Gauld's weekly strips in The Guardian, Britain's most well-regarded newspaper, stitch together the worlds of literary criticism and pop culture to create brilliantly executed, concise comics.
From sarcastic panels about the health hazards of being a best-selling writer to a list of magical items for fantasy writers (such as the Amulet of Attraction, which summons mainstream acceptance, Hollywood money, and fresh coffee), Gauld's cartoons are timely and droll—his trademark British humour, impeccable timing, and distinctive visual style sets him apart from the rest. Lauded both for his frequent contributions to New Scientist, The Guardian and The New York Times, and his Eisner-nominated graphic novels, Tom Gauld is one of the most celebrated cartoonists working today. In Baking with Kafka, he proves this with one witty, sly, ridiculous comic after another.
---
---
"To read Tom Gauld... is to be entertained, but also to be affected on a deeper level, where timeless truths about the human condition wait for talents such as Gauld to tap a line into them and provide lesser mortals like me with a chance to taste them...a delight to read."—BoingBoing
---
---
TOM GAULD is a cartoonist and illustrator. He has weekly comic strips in The Guardian and New Scientist and his comics have been published in The New York Times and The Believer. In addition to his graphic novels Goliath, You're All Just Jealous of My Jetpack, and Mooncop, he has designed a number of book covers. Gauld lives and works in London.
---
RSVP is appreciated, but not required. If you cannot attend the event, but would like a signed copy of Baking with Kafka, please order below and fill out the special requests field.
Books: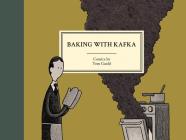 $19.95

ISBN: 9781770462960
Availability: Out of Stock - Usually Ships in 1-5 Days
Published: Drawn and Quarterly - October 3rd, 2017
---