Paul Madonna / On to the Next Dream
Wednesday, May 3, 2017 -

7:30pm

to

9:00pm
Body:
Booksmith is thrilled to welcome Paul Madonna back to the store for the release of his new book, On to the Next Dream. Join us!
Paul's popular comic, "All Over Coffee" had been running for twelve years in the San Francisco Chronicle when he was evicted from his longtime home and studio in the Mission District, ground-zero in the "tech wars" transforming the city. Suddenly finding himself yet another victim of San Francisco's overheated boomtown housing market, with its soaring prices and rampant evictions, Madonna decided to use his comic as a cathartic public platform to explore the experience, and to capture the complex, highly charged atmosphere of a city—and a life—being forced through a painful transition.
In a series of drawings and stories, Madonna evokes the sense of vertigo induced by being forced from his home, and the roil of emotions that ensue as he enters into the city's brutal competition for a place to live. The line between reality and surreality begins to blur almost immediately, in real life and in his comic. Absurd, maddening, and all-too-poignant, these drawings and stories capture the spirit of not just San Francisco, but a cultural epidemic that has now spread to cities around the world.
---

For years I've been intrigued and charmed by Paul Madonna's careful and thoughtful drawings of overlooked nooks and by-ways of San Francisco. In his new book he now combines them with manic, delirious, and increasingly paranoid writings as he struggles with the all-consuming City dilemma of gentrification; of who came first, who gets to stay, which wave of usurpers is more 'real' and deserving than the next, and finally, what happens when someone decides it's your turn to go. Beautiful and engaging. -- Sandow Birk, visual artist
Madonna has created a kind of San Francisco Realism, details so absurd, cruel, and beautiful that they can only come from our infuriating home. If Charlie Kaufman squatted in an illegal sublet in Armistead Maupin's mind, this would be the lovely tenant. -- Joshua Mohr, author of All This Life
Paul Madonna's On to the Next Dream is bleak, terrifying, hilarious and lovely. -- MariNaomi, author and illustrator of Turning Japanese
---
Paul Madonna is a San Francisco-based artist and writer. He is the creator of the comic series "All Over Coffee" and the author of two books, All Over Coffee and Everything Is Its Own Reward. Paul's work is about pairing elements: text and images; concept and craft; thought and beauty. Paul's drawings and stories have appeared in numerous international books and journals as well as galleries and museums, including the San Francisco Contemporary Jewish Museum and the Oakland Museum of California. He is the Comics Editor for TheRumpus.net, has taught drawing at the University of San Francisco, and frequently lectures on creative practice, even when not asked. He holds a BFA from Carnegie Mellon University, and was the first (ever!) Art Intern at MAD Magazine (1993-94), for which he proudly received no money.
RSVP appreciated but not required. If you cannot attend the event, but would like to request a signed copy of On to the Next Dream, please order below and put your request in the comments field.
Books:

$17.95
ISBN: 9780872867420
Availability: On Our Shelves Now
Published: City Lights Books - April 4th, 2017
---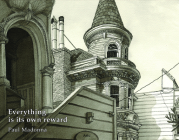 $30.00
ISBN: 9780872865150
Availability: On Our Shelves Now
Published: City Lights Books - April 19th, 2011
---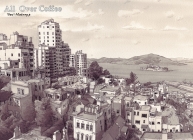 $30.00
ISBN: 9780872864566
Availability: On Our Shelves Now
Published: City Lights Books - April 1st, 2007
---