Sunday, October 13, 2019 - 4:00pm
Body:
The Bindery welcomes Mike and Anne Howard back for their second book, Comfortably Wild: The Best Glamping Destinations in North America. Join us!
River rafting between luxury camps, harvesting vegetables for a farm-to-table dinner, and ziplining to your treehouse suite, this is experiential travel at its finest. Breaking the mold of big-box hotels and transforming camping into a glamorous affair, this revolutionary travel style needed its story told. Traveling over 73,000 miles from Canada to Costa Rica, authors Mike & Anne Howard of the acclaimed blog HoneyTrek.com sought out the best glamping destinations in North America and the deeper meaning of this trending term. In the first guide of its kind, the Howards dive into the origins of glamping and this 21st-century craving for unconventional experiences that effortlessly connect us with nature, our loved ones, and ourselves. Rather than being organized by style of lodging, each chapter of Comfortably Wild offers a unique way to vacation, like the boutique farmstays in "Cultivate," wellness retreats in "Rejuvenate," and the action-packed journeys of "In Motion." Seventy-plus destinations across nine countries come alive with colorful descriptions and hundreds of gorgeous photographs. In addition to inspiring stories, they offer practical tips to finding the right destinations for you and mobilizing a lifetime of unforgettable adventures.
---
Mike and Anne Howard left on their honeymoon in January 2012 and never came home. They created HoneyTrek.com to chronicle their journey across all seven continents and to help people mobilize their travel dreams. Their story as the "World's Longest Honeymooners," savvy tips, and blog have been acclaimed by the AP, Lonely Planet, USA Today, Condé Nast Traveler, CBS, and more. Having scouted hotels around the world for Honeymoons.com, blogged for Glamping.com, and authored National Geographic's best-selling book on couples adventure travel (Ultimate Journeys for Two), the Howards were poised to write the first-ever book on glamping in North America. Through their writing, photography, public speaking, trip coaching, travel advising, and social media, the Howards hope to inspire more people to explore outside their comfort zone. Follow their adventures @HoneyTrek.
---
Please note: this event will be held at The Bindery, 1727 Haight.
This is an all ages event. The bar opens with the store at 2pm; event starts at 4pm.
As with all of our events, seating may be limited; you can guarantee a seat by pre-purchasing the book below -- when checking out, just be sure to include a note that you'd like to attend the event. If you cannot attend the event but would like to request a signed copy of Comfortably Wild, order below and put your request in the comments field.
Books: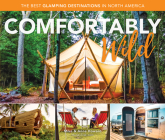 $34.95

ISBN: 9781493037797
Availability: Special Order - Subject to Availability
Published: Falcon Press Publishing - October 1st, 2019
---