Behind The Scenes: PAUL MADONNA / Everything is Its Own Reward
Friday, May 6, 2011 - 7:30pm
Body:
A Behind-the-Scenes Talk, with Visuals
This evening, Paul Madonna considers his art, his imagination, his thoughts, and how he works, in a rare "behind-the-scenes' talk (with video).
Starting in his hometown of San Francisco and traveling to cities such as Paris, Rome, Buenos Aires and Tokyo, Paul Madonna offers his second body of drawings and writings. This stunning new collection, a testament to the artist and storyteller's careful observation of both the external and internal worlds, outdoes the masterful performance of his first book, All Over Coffee, offering an even richer catalogue of pen-and-ink cityscapes, short stories, conversations and thoughts. Entertaining and moving, gorgeous to look at, Madonna's work remains unique and unclassifiable. This full-color, hardbound edition comes complete with a removable poster.
"The book is fantastic.
Of time and tenderness.
Beautiful drawings. Beautiful text.
Ethereal and serious at once.
The book is its own reward."
-- Maira Kalman, author of And the Pursuit of Happiness among many other titles
Paul Madonna produces the strips All Over Coffee in the San Francisco Chronicle and on SFGate.com, and Small Potatoes on TheRumpus.net. In 2007 the first book collection of All Over Coffee was published by City Lights Books, and is currently in its fifth printing. In 2009 Paul launched the artbook series Album. Paul's drawing and prints are shown in museums, galleries, restaurants and cafes and his work has been reprinted in various book collections and publications, including his coverage of the U.S. 2009 Presidential Inauguration for several international newspapers. Paul is the comics editor on TheRumpus.net and also teaches drawing at the University of San Francisco. In 1994 he received a BFA from Carnegie Mellon University, and that same year was the first (ever!) Art Intern at MAD Magazine, for which he proudly received no money.
This evening, join us to find out what goes on at the artist's work space…really.
RESERVED SEAT WITH PURCHASE OF Everything is Its Own Reward at The Booksmith, in the store, by phone, or online.
Books: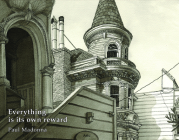 $30.00
ISBN: 9780872865150
Availability: On Our Shelves Now
Published: City Lights Books - April 19th, 2011
---